"The best approach to anything is usually the simplest one." Unknown
Artwork Storage
© 2000 Nita Leland
Claudia from Dallas, Texas, shared this great idea for recycling an old cabinet:
"I was repairing a large cabinet and had it side ways on the floor and to my amazement realized I had the perfect flat file for my large watercolors. We took the shelves out, though used one in the center for support. Then we cut shelves the width we wanted, using the doors for some. Really does work great. Some shelves are vertical and some horizontal. And the top makes a perfect work surface."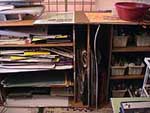 ---
Here's a money-saving tip sent to me by Janice:
Go to your local car-repair shops and ask them to save large, flat radiator boxes for you. The boxes are about 32" x 32"x 8" or 10". Trim the boxes with a utility knife so they are the same length from top to bottom. Stack as many boxes as you need and secure them with two or three bungee cords. The boxes can be used for storage of mat board and artwork in your studio or for transporting paintings to art shows.
Janice says each box will hold about three framed pieces, depending on the size, with cardboard between them to prevent scratching of the frames. You can also rig up carrying handles with some imagination and additional cardboard and duct tape.
---
| | | |
| --- | --- | --- |
| Another great idea comes from Katherine Morrin. She uses the long sides of old baby cribs for storing her art. If you don't have one of your own, I'm sure you can find a used one somewhere. Join the crib sides with 2" wood strips about 12" long. Be sure to line up the slats. The finished rack can stand either vertically or horizontally on the floor or hung from the ceiling with shelf supports under it to help carry the weight. Katherine generously provided us with the plans for her storage racks | | |
---
From Linda Meigs of Omaha, Nebraska: "I use a large metal laundry rack and tie thick clothesline cord around it every inch or so, knotting it to hold it in place. ...For smaller works I use the Closet-Maid frame (minus the wire baskets) set on its sides. Each painting slides into its own little groove."
---
Anita Sams of Big Rapids, Michigan also sent me a set of plans for a wonderful storage cabinet, but since they are copyrighted, I can't put them on the site. Thanks to all of you for sharing your art storage solutions.
---