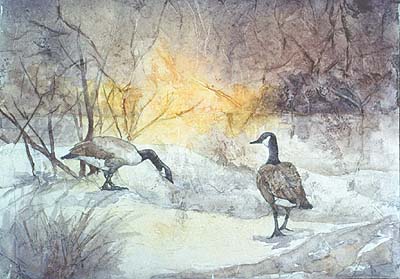 Crystal Dawn by Nita Leland
Watercolor Collage
15"X20"
Sold
This collage is more about light and texture than it is about geese. I love the way the sun reflects off the ice and snow of a marsh and sets a scene ablaze. I laminated illustration board with a sheet of textured rice paper, using matte medium as the adhesive. Then I laid watercolor washes on the textured surface, and they crawled into the wrinkles and made interesting tree shapes. It's fun to work with these "happenings." This piece appears in Creative Collage Techniques on p. 72.
For more information on Rice Paper Collage, see Working With Rice Paper.
To discuss the purchase of original art, please email me with your phone number or call 1-937-434-9977 and leave a message. I'll return your call as soon as possible.