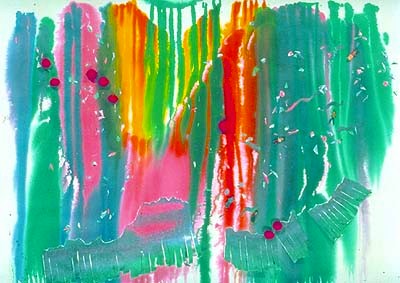 Fiesta by Nita Leland
Watermedia Collage
22"X30"
$600
I couldn't resist buying a little package of Guatemalan worry dolls at a craft supply store. They sat around for ages before they became the secret in this watermedia collage, floating through colorful chaos. I had a great time flowing the pure acrylic-ink colors onto wet hot-press watercolor paper. I made two sheets using the same colors, one for the background and one to tear up. I cut the fringe and adhered it with matte medium, then used gel medium to set the little dolls tumbling down the page. A sprinkle of glitter and some pompoms from an old fringe added to the fun. This collage is on p. 116 of The Creative Artist.
For more on collage techniques, please see my book Creative Collage Techniques.
To discuss the purchase of original art, please email me with your phone number or call 1-937-434-9977 and leave a message. I'll return your call as soon as possible.