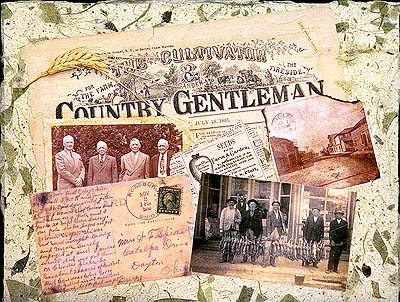 The Haber Boys by Nita Leland
Mixed Media Collage
10"X13"
NFS
My grandmother's family was a delight to me when I was a child. Her brothers were hardy country people from a small town in Ohio named Rossburg. This collage swings from a rabbit-hunting trip in the early 1920s, commemorated by a postcard they sent to my grandmother, to a visit to her, all duded up, when they were in their eighties. I began by cutting strips of fibrous decorative paper for a border. The old newspaper (1881) was crumbling, so I applied matte medium to the background, laid it on the wet medium, and coated it immediately with medium. After I scanned the old pictures and aged them with my photo-editing program, I adhered these elements with Golden's Soft Gel. The wheat stalk was dipped in fluid medium to encase it completely, then adhered with regular gel.
For more on collage techniques, please see my book Creative Collage Techniques.
To discuss the purchase of original art, please email me with your phone number or call 1-937-434-9977 and leave a message. I'll return your call as soon as possible.