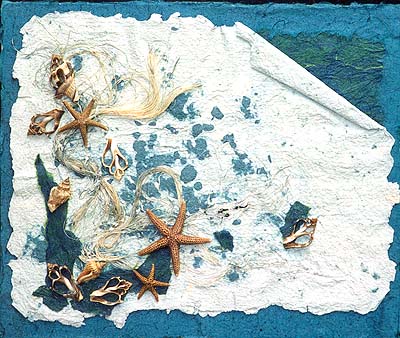 Sea Shapes by Nita Leland
Handmade Paper Nature Collage With Shells
10"X12"
$200
Just about everybody has a box of seashells they've picked up from a beach somewhere. I enjoy using them in my collages as a memento of a great vacation. These shells came from a trip to Florida when my children were small. Decorative papers make up the colored background, with a piece of my handmade paper superimposed on top. The colored papers were adhered with soft gel, the handmade paper and shells with regular gel. Try it for yourself--do my project on nature collage.
For more on collage techniques, please see my book Creative Collage Techniques.
To discuss the purchase of original art, please email me with your phone number or call 1-937-434-9977 and leave a message. I'll return your call as soon as possible.