Q. What is your art school background?
A. I didn't commit myself to a visual arts career until I was thirty years old. At that time I signed up for "etching 1" at the San Francisco Academy of Art. I also snuck into the San Francisco Art Institute to dip some copper plates since the Academy had no acid baths for copper. That's about it. That one class... No art degrees (or any other degrees for that matter).

Q. Who or What had the greatest influence on you as you developed as an artist?
A. My mother was, of course, a great influence. So were some of the artists I met as a child: Arthur Lidov, Jacques Lipshitz, Thomas Hart Benton, Alexander Calder. Frequent trips to the Museum of Modern Art and the Metropolitan in New York left their mark as well.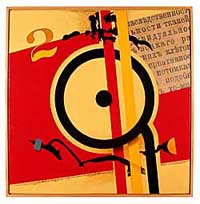 Q. Why collage?
A. Unlike painting, the raw materials of collage are not innocent. To the contrary, one can choose fragments of paper, etc. which are, because of the words and or images on them, highly charged with social, philosophical, psychological, spiritual, historical, and personal energy. All these elements contribute to the power of the works.
Q. How do you know when your collage is done?
A. When it no longer asks me, as its nurturer, for more elements.