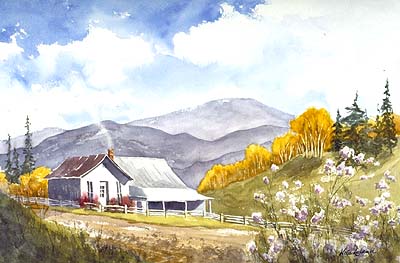 Colorado Homestead by Nita Leland
Watercolor
14"X20"
Sold
This little farm sat alongside a rutted dirt road in the Colorado hills behind Central City. I often wonder if it's still there, or if the area has been platted for a golf course and development after the casinos came to town. This watercolor was painted on dry paper, not my usual wet-in-wet style. The flowers in the foreground were masked out with liquid frisket before the washes were applied.
See chapter six, "Expanding Your Palette With Color Schemes," in Exploring Color .
To discuss the purchase of original art, please email me with your phone number or call 1-937-434-9977 and leave a message.