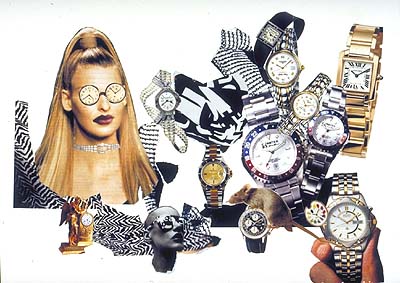 The Rats Are Winning by Nita Leland
Magazine Collage
15"X20"
$250
Collages rarely turn out the way you expect them to. This started out as an image of elegance, with a beautiful fashion model and several very expensive timepieces. Somehow it got twisted, as she acquired pocketwatches for eyes and a rat crawled over one of the watches. This is the most popular collage technique, cutting or tearing papers and adhering them with Golden Soft Gel. I always flatten the pieces using a soft rubber brayer. The tricky part is designing the layout.
Read this article for more information on Magazine Collage.
For more on collage techniques, please see my book Creative Collage Techniques.
To discuss the purchase of original art, please email me with your phone number or call toll free
1-877-66COLOR (1-877-662-6567) and leave a message. I'll return your call as soon as possible.