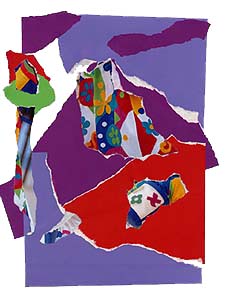 Collage is one of the easiest of all art forms to get started with and magazine collage is a good place to begin, because everyone has most of the materials within easy reach. This is what you need:
colorful magazines
white glue, acrylic medium or glue stick
scissors (optional)
cardboard, paper, poster or illustration board for background support
Do you want to make a realistic or abstract collage? For a realistic collage decide on a theme. Usually your magazines will help you do this. You might have garden, sports or other special interest magazines to get you started. You might also do an autobiographical collage, describing your life in pictures. For an abstract collage you will work with colors and shapes. I like to use fashion magazines, because they have such brilliant colors, novel patterns and flowing shapes.

The technique itself couldn't be easier. You simply cut or tear pictures and/or shapes from your magazines and arrange them on the support. Repeat colors and patterns to make an interesting design. When you have an arrangement you like, use the glue, medium or glue stick to adhere the pieces. Be sure to cover the entire back of each piece before you apply it and gently wipe off excess glue with a damp paper towel as you pat the piece gently into place.

Magazine collage is popular both with beginners and professional artists because the results can vary from simple pictures to complex, subtle social statements. There are two magazine collages in my collage gallery, "The Rats Are Winning" and "Home on the Range".

For more collage ideas see The New Creative Artist and New Creative Collage Techniques.