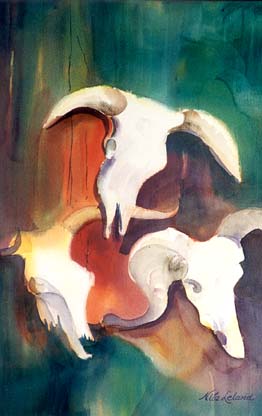 Los Tres Amigos by Nita Leland
Watercolor
20"X14"
$450
The stark shapes of animal skulls hanging from a wall in an alley in Old Town in Albuquerque, New Mexico, caught my eye. I excluded most of the background and selected a color scheme of a complementary tetrad, four colors directly opposite each other on the color wheel. These are my favorite colors for southwestern subjects. I avoided picky detail to give an austere feeling to the picture, at the same time using the shapes of the horns to suggest ghostly rhythms.
This painting was a demo for Autumn 1999 Watercolor Magic magazine. Read chapter six of Exploring Color for more information on how to use color schemes.
To discuss the purchase of original art, please email me with your phone number or call 1-937-434-9977 and leave a message.