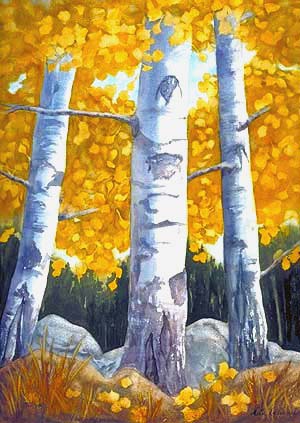 Colorado Goldby Nita Leland
Watercolor
24"X18"
$650
Trail riding through the high country in the Colorado Rockies, I was amazed at the size and color of the aspen trees. The trees are tall, their trunks sturdy, and the quaking leaves radiate a magnificent golden glow to the entire landscape. After the foliage washes were laid in, I used several hand-cut stencils to sponge out the leaves.
This watercolor is in Exploring Color, p. 87, illustrating a triadic color scheme.
To discuss the purchase of original art, please email me with your phone number or call 1-937-434-9977 and leave a message.