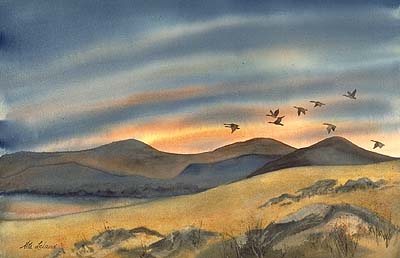 Dusk by Nita Leland
Watercolor
14"X20"
Sold
Although this watercolor is based on an area near Boulder, Colorado, I've seen a great many places with these rolling hills. Capturing the light as the sun goes down, I toned the entire painting with that ambient color and contrasted the dark hills and bird silhouettes against the light. Low-key value contrast sets a dramatic mood with a limited palette. I used the compatible palette combination of Brown Madder, Raw Sienna and Indigo to create the ambience.
For more information on compatible palettes see chapter five in Exploring Color.
To discuss the purchase of original art, please email me with your phone number or call 1-937-434-9977 and leave a message.