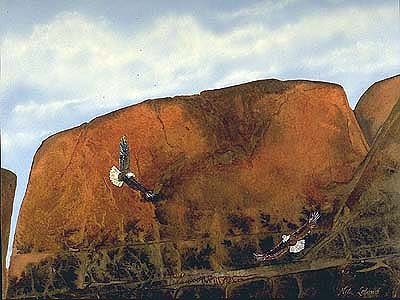 Eagle Rock by Nita Leland
Ink and Acrylic
18"X24"
Sold
I poured inks in browns and earth reds over the entire paper and let the paper partially dry under a sheet of crumpled plastic to create textures. When the ink was completely dry, I brushed acrylic gesso over the sky to carve out rocks and painted the eagle shapes with white gesso. Then I airbrushed the sky and clouds over the gesso with acrylic paints. I finished the birds with a small brush. The color scheme is a simple near-complementary one of blue and red-orange.
See chapter six, "Expanding Your Palette With Color Schemes," in Exploring Color .
To discuss the purchase of original art, please email me with your phone number or call 1-937-434-9977 and leave a message.