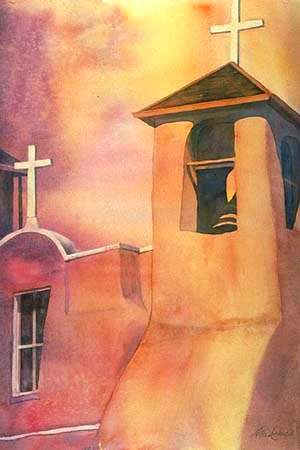 Icon by Nita Leland
Watercolor
24"X18"
$650
I can understand why Georgia O'Keeffe loved to paint the Rancho de Taos church of St. Francis. The simple, blocky shapes have an abstract quality that is timeless. I isolated this tower from my photograph to create a strong composition, then used intense pigments in flowing washes over the entire sheet. I painted the buildings in layers over the background and recovered the light and white areas by sponging and scraping the dry paint.
You'll find this painting on pp. 64-65 of Exploring Color. It was also a featured demo in my article on color schemes in the Autumn 1999 issue of Watercolor Magic magazine.
To discuss the purchase of original art, please email me with your phone number or call 1-937-434-9977 and leave a message.