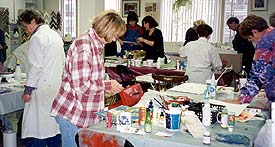 Collage is creative, challenging and fun-- and it's easy to get started. In this workshop you'll learn collage basics and how to combine watercolors or acrylics with collage, adhering found and Asian papers and magazine clippings with acrylic mediums. Learn more about color and design in fine-art collage. Try some experimental techniques. Work from your own sketches, setups and photos. New Creative Collage Techniques will be used as a reference. Digital presentations, critiques and individual consultations are available. Bring your usual painting gear and one or two pieces for a helpful critique. Here are some suggestions:
Brushes: 3/4-1" one-stroke flat; #8 pointed round; 2" flat wash; old toothbrush; old synthetic brushes (all sizes, flat and round) to use with acrylic mediums

Your choice: 5-10 half sheets of 140#-300# cold press watercolor paper and/or Crescent 310 or Bainbridge 80 illustration board; unryu, kinwashi or other textured oriental papers, magazines with colorful pictures on heavy paper, old paintings, found papers and small objects

matte and gloss medium, soft gel, gesso

Watercolors, acrylics, or lightfast inks.): French Ultramarine, Winsor or Phthalo Blue (Green Shade and Red Shade), Cerulean, Cobalt Blue, Aureolin, New Gamboge, Winsor or Cadmium Lemon, Alizarin Crimson, Winsor or Cadmium Red, Cadmium Scarlet, Rose Madder Genuine, Quinacridone Magenta, Yellow Ochre, Raw Sienna, Burnt Sienna, Brown Madder, Indian Red, Indigo, Payne's Gray.

white watercolor palette-- 12" or larger with cover; 2 large, unbreakable water containers; scissors, Exacto knife, 4" soft brayer, dull pocket knife, HB drawing pencil, white plastic eraser, ruler, sketch pad, small natural sponge, spray bottle, drafting tape, hair dryer; plastic- coated freezer paper; 9" x 12" frosted Mylar drafting film (for monotypes), heavy paper shop towels
What students say about Paper/Watermedia Collage Workshop:
"My mind is going a mile a minute--I'm even dreaming in collage.&"
"Your collage workshop has pulled out all my locked-in creativity."
"Your workshop and collage book contain everything I was looking for."
"The workshop made me feel better about being a packrat!"