The future belongs to those who believe in the beauty of their dreams. Eleanor Roosevelt
Arizona-Sonora Desert Museum 2003
Digital photos © 2003 Nita Leland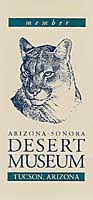 In October of 2003 I taught Color and Watercolor for the Arizona-Sonora Desert Museum Art Institute in Oro Valley, Arizona and the Arizona-Sonora Desert Museum in Tucson. It was an amazing experience. I had no idea of the richness of the Sonoran Desert, preserved at the museum over many acres of habitat for live animals and plants. The art institute has a fantastic program for nature artists and illustrators using the resources of the museum.
Please enjoy my digital-photo tour of the Desert Museum. Eventually I'll try to identify the species, but many are new to me. If you can help with identification of a particular plant, please email me. Thanks.
1 | 2 | 3 | 4 |
Page 1
| | | |
| --- | --- | --- |
| The Desert Ark van | The van is decorated with colorful images of flora & fauna. | I stayed in this casita at the museum. |
| Brown Mountain rises majestically, seen from the casita. | Prickly-pear cactus is everywhere on the paths around the museum. | Near the museum entrance a Baja lizard basks in the sun. |
| A horned lizard enjoys another sunny spot. | Unknown lizard | Unknown lizard |
The suggested path through the museum turns to the right, as you enter the museum grounds, to an indoor exhibit of live snakes, lizards and spiders. The path leads to a breathtaking view south and west, and then to a geology ramada. The next area features an underground limestone cave with mineral and gemstone exhibits.
| | | |
| --- | --- | --- |
| This vista extends many miles to the south into Mexico. | Saguaro cactus forests grow only in the Sonoran Desert. | Ramadas along the path are shelters for shade and educational exhibits. |
| A viewing window allows a close-up of a mountain lion. | A pair of mountain lions inhabit the Mountain Woodlands area. | A mountain lion strikes a dramatic pose. |
| | | |
| --- | --- | --- |
| Black bears also live in the mountain areas of the Sonoran Desert. | The Mexican wolf is a mountain woodlands inhabitant. | A white-tailed deer is camouflaged by trees in the woodlands. |
Birds of prey and other animals are displayed outside their usual habitats from time to time for a close-up view. There are also seasonal scheduled "free-flight" demonstrations on the grounds.
| | | |
| --- | --- | --- |
| American kestrel | A docent takes a Harris's hawk on an outing around the museum grounds. | Birds will open their wings when the handler raises and lowers his hand. |
| Barn Owl | Barn Owl | Barn Owl talons |
1 | 2 | 3 | 4 |
Return to Top