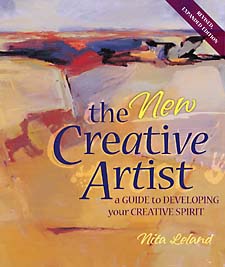 View a few pages from the book.
Creativity DVD


For preview, search at ArtistsNetwork.tv
Choose to be creative! Whether you're a beginner or an artist who wants to break through a creative block, this book will unleash your natural creative abilities. You'll have fun developing your creative spirit while working with the expanded, completely revised The New Creative Artist.

Artists at all skill levels have enjoyed the inspirational, motivational approach and delightful exercises of the original The Creative Artist. Teachers have used the original book as a resource for class projects. The book has been a best-seller since its publication in 1990. Now Nita has made the book bigger and better than ever, including 26 more pages than the original (a new chapter, "Art and Craft: Highways and Byways," has been added), 113 creative block-busting activities and fantastic art by 102 contemporary artists in all media. Approximately 134 pieces of art were retrieved from the original and 166 new artworks added. The text has been substantially revised and reorganized with new material on the creative process, reducing stress, mind-mapping and more.

Creativity expert Eric Maisel says The New Creative Artist is "...packed with juicy observations and insights gleaned from a lifetime of hands-on art-making and worldwide teaching, The New Creative Artist is the perfect companion to jumpstart your creativity and enhance your studio experience."

"A remarkable exercise book for any artist in any medium, The New Creative Artist can inspire the beginner or unblock the professional." Library Journal review of the original.
Tap into your creative process and renew your creative spirit.
Develop skills and try new techniques to become more creative.
Overcome stress and smash creative blocks.
Use the creative tools of memory, imagination and visualization more effectively.
Explore creative art and craft mediums and techniques.
Have more fun making art.
Believe in yourself as a creative artist.
Readers of The New Creative Artist say:
"I keep it within reach and pick it up nearly every day for inspiration. The art and activities are fantastic.
"This book is both encouraging and exciting. It made me want to take it right to my studio and get to work."
"What makes this book fantastic is that you can pick out what you feel inspired by. This is easy and accessible reading for anyone wanting to be unblocked or moved creatively in new directions. "
"I think that Nita has put it all in one book. She hasn't held back a thing - its all there in black and white. No matter what your level of expertise is or whether you are a beginner or more advanced, its all there. I would recommend this book to anyone who is open to new ideas on creativity. "
"Not only does this book help to develop the creative spirit, it helps with personal goals for life."
".....the person who owns this book will never be at loss for something new - whether it be in the area of realist painting or of abstraction and everthing in between.
"Experience the creativity known only to a child. Once you pick up this new book by, Nita Leland, you will find yourself immersed in your own imagination that before now, you thought only a few could possess. "


Coming in 2018 in paperback edition
ISBN# 1581807562