Creative artists love new art projects and are always inventing different ways of doing things. Here are some nifty ideas, plus a few fun techniques from my watercolor, exploring color, creativity and collage workshops. See if you can find an idea to use in your artwork.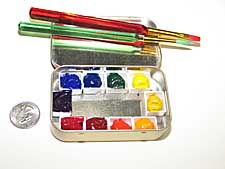 I've had a good time playing at making mini travel-palette boxes from Altoid mint boxes. Check my blog for details. I originally had the palette in mind for Jenna, but it's too small for her to work with. Fun for me, though.
"Paint as you like and die happy." Henry Miller
TRY THIS! Altered Book Collage by Karen Hatzigeorgiou. An old book is re-invented by collaging whimsical elements to the pages. Thanks to Karen for this delightful link. Use your browser "back" button to return to this page.