<![if !vml]>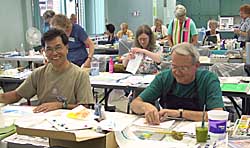 <![endif]>Free your creative spirit where the emphasis is on you! Capture and record memories, ideas, images and quotations in a Creativity Workbook-Journal. Try new color and design ideas; experiment with abstraction; play with collage and mixed media. Benefit from helpful daily critiques and useful tips on goal-setting. Activities are based on The New Creative Artist, Exploring Color, , Confident Color, and New Creative Collage Techniques. In addition to the supplies you use for painting, bring your own subject matter.
9" x 12" or 11" x 14" sketchbook

4-6 quarter-sheet illustration boards (Crescent 310 or Bainbridge 80) or heavy papers for collage supports

HB pencil, white plastic eraser; black Pigma Micron .03 pen or Pilot Precise (fine), or similar drawing pen

Set of at least 12 colored markers (Mr. Sketch scented markers are fun!)

origami or other colored papers

unryu or other Asian and decorative papers

magazines with lots of colorful advertising on qualitiy paper (Vogue, Geographic, etc.)

matte medium, acrylic soft gel

old synthetic brushes, scissors, sponges, paper towels, masking or drafting tape

soft brayer

artists' tube colors: French Ultramarine, Winsor or Phthalo Blue Green Shade, New Gamboge or Indian Yellow, Winsor or Cadmium Lemon, Alizarin Crimson, Winsor Red or Cadmium Red, Quinacridone Magenta or Permanent Rose, Burnt Sienna, and your personal favorites in watercolor or acrylic paints

palette for mixing, 2 large (quart) water containers

Optional: watercolor crayons or pencils, other art and craft supplies
What students say about Creativity Workshop:
"I learned so much about myself, and there's no stopping me now."

"You truly helped me understand more about creativity."

"I enjoyed the relaxed environment and learning different ways to be more creative."

"The Creativity Workbook is perfect for organizing ideas, sketches and collage."